Anti Music:
The Hate Ring.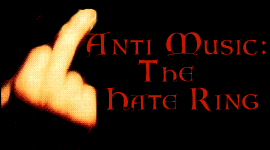 It is free to join the ring.
The only requirements are:

You have to Hate.

Nothing Racist.

Hate must be for a musician or music genre.

You can't take offense at the other sites in the ring. They are entitled to free speech the same as you are.
For a random site go here.

Members click here to edit your site info.

So, you wanna join the ring? Well here's what you gotta do:
Insert this little html fragment into your page

Make sure that the fragment points to the version of the pic on your page. Dont touch the webring link.

Fill out my little form.
You really don't have to e-mail me But if you really want to: Tchort

Change all the undescores "___" in the fragment so they have your Id number, Name, and Email Address.


Only Member shall go here!
Edit you site info here.

If you need help or have questions mail me. Tchort